Get in touch
You can now book an appointment online via our booking system.
Alternatively, Contact us for more information.
Email:  [email protected]
Call us: 07523 826876 (mobile) or 01206 578889 (landline)
  Visit The Prom Shop
We are open by appointment only.
Opening hours;
Monday – Closed
Tuesday         9:45am – 8:15pm
Wednesday  10:00am – 7:30pm
Thursday      10:00am – 5:30pm
Friday            10:00am – 5:30pm
Saturday       9:30am – 5pm
Sunday         We open on Sundays during peak season Jan – April.
Please use the online booking system to check our availability.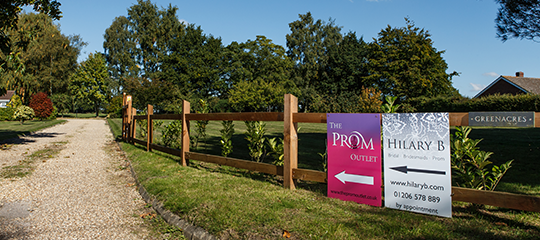 Once you're here, follow the signs for The Prom Shop.
Greenacres, Harts Lane, Ardleigh, Colchester, Essex CO7 7QQ
PLEASE NOTE: If you are unaware of our location and relying on a SatNav, please disregard your satnav once you have reached Harts Lane and just keep driving approx half a mile until you reach our signs on the fence AND our bright Pink/Purple VW Beetle Car on our lawn (You can't miss us). Unfortunately a satnav will direct you to the wrong drive. Please respect our neighbours and drive carefully along our lane.